Shower Affirmation Waterproof Cards
Regular price
$24.99 USD
Sale price
$24.99 USD
Unit price
per
Sale
Sold out
Introducing our Self Love Shower Affirmation Cards - Your Daily Dose of Empowerment!
As a busy and overwhelmed mom, finding time for self-care can be a challenge. But what if you could transform your daily shower into a moment of self-love, affirmation, and rejuvenation? Our Self Love Shower Affirmation Cards are here to make it possible.
Crafted with love and understanding for moms like you, these cards are specifically designed to fit seamlessly into your busy lifestyle. Made from recycled plastic, they are not only eco-friendly but also water-proof and washable. All you need to do is get them wet and stick them to your shower wall, shower door, or mirror.
Each set includes 10 front and back affirmation cards, offering a total of 20 powerful affirmations carefully curated to uplift and empower you. From boosting your self-confidence to promoting self-care and inner peace, these affirmations will help you reframe your mindset and cultivate a deep sense of self-love.
We understand that time is precious, so we've made it easy for you. Our set includes an instruction card that guides you on how to incorporate these affirmations into your shower routine effortlessly. Simply choose an affirmation that resonates with you, repeat it aloud or in your mind while you shower, and allow its positive energy to envelop you.
With their water-proof and washable nature, these cards are built to withstand the steam and splashes of your shower, ensuring they will stay vibrant and intact for countless self-love sessions. Plus, the set comes with a waterproof case, providing a convenient and stylish way to store your cards when not in use.
Make the most of the precious moments you have in the shower - a time dedicated solely to yourself. Let our Self Love Shower Affirmation Cards be your daily reminder of your strength, beauty, and worth. Embrace the transformative power of positive self-talk and watch as it positively impacts your entire day.
It's time to prioritize yourself and infuse your life with self-love. Order your set of Self Love Shower Affirmation Cards today and experience the joy of nurturing your mind, body, and soul with each rejuvenating shower.
Because you deserve to be showered with love, affirmations, and unwavering self-care.
Reclaim your shower. Reclaim your self.
Share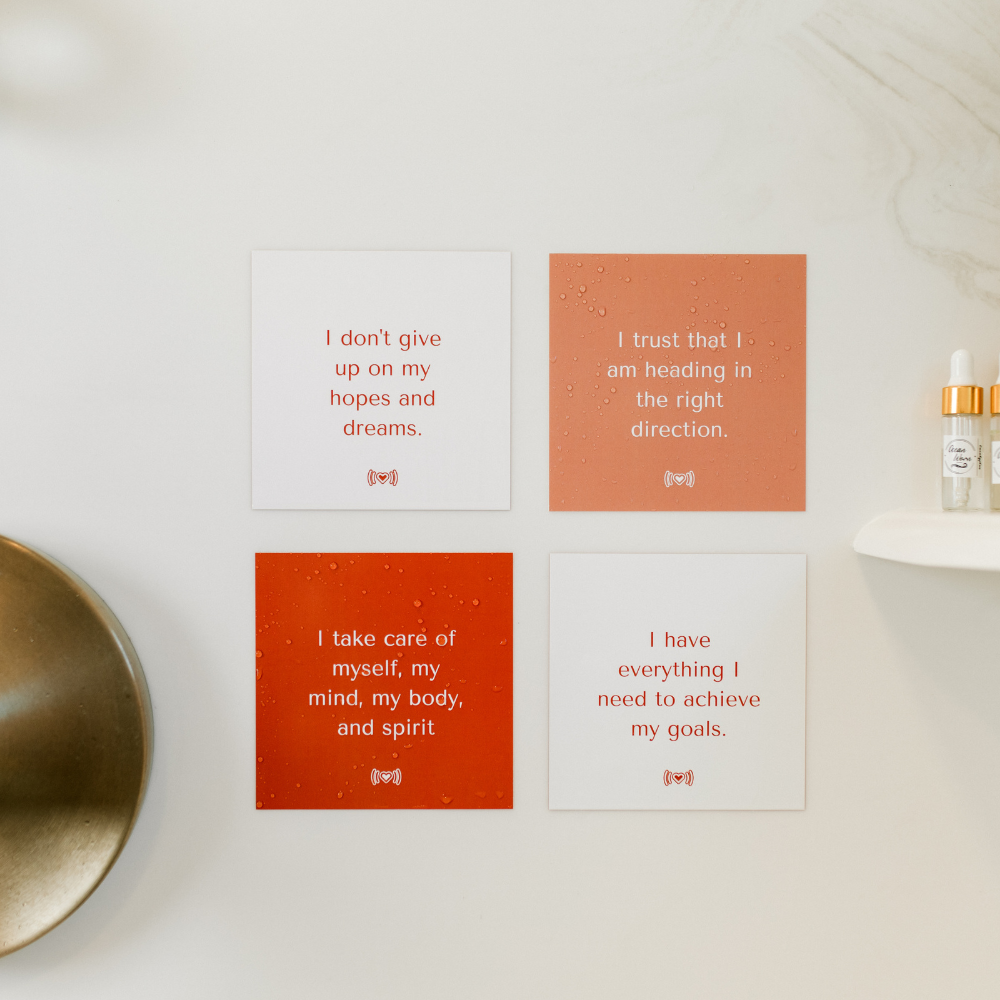 25% Of Profits Go to Charity
Dignity for Girls is a small, yet powerful charity in South Africa that has a special place in Michelle's heart. When you support us, you are supporting the children!